Pyramids in Peru
Many of Peru's ancient structures have lasted well, but not the pyramids. Most of them have eroded so much they are unrecognisable. Below is a restored adobe pyramid from around 800BC, located in the middle of the high-rise district of San Isidro.
| | |
| --- | --- |
| | Covering over 540 acres and including 26 major pyramids the Tucume site dates to about 1100 AD. The largest of the adobe brick pyramids, Huaca Larga, is 2300 ft long, 910 ft wide and 65 ft high, although it may have originally been three times this height. |

Huaca del Sol, Moche
Is it so surprising that, with so many pyramids, the Americas also had mummies? This one was found within a pyramid at Huaca Huallamarca.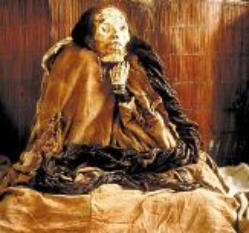 [1] Weatherford, Jack,  Native Roots. How the Indians Enriched America. Fawcett Columbine, New York, 1991. Page 9